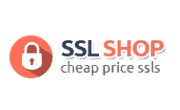 CheapSSLShop Promo Codes and Deals
There are a total of
7
programs Discount Promotion of brand
CheapSSLShop
. including free Coupon and Promo Codes March 2018. Save up to 70%, along with the latest discount code:
"55% Off SSl"
in the category
SSL Certificate
. Now, you can achieve great discounts with CheapSSLShop. Discount Coupons and Promotional Codes, you will enjoy the maximum discount on your order.
Go to brand home page: https://www.cheapsslshop.com/
Currently 7 Active discount code
March 2018: Upto 64% discount on GeoTrust True BusinessID Certificate at $59.40 USD at Cheap SSL Shop...
March 2018: GeoTrust QuickSSL Premium is Domain Validated SSL certificate used to provide data protection during transition over your single domain with strongest encryption. Cheap SSL Shop offers discount coupon to 3 years GeoTrust QuickSSL premium certificate at just $31.50 per year....
March 2018: Buy RapidSSL Wildcard Certificate for 3 years to secure sub-domains at just only $71.67/Yr. from CheapSSLShop.com...
March 2018: Save Upto 72% off code to Buy Domain validated Comodo UCC SSL certificate, price Starting from $65/yr including 3 SAN (Subject Alternative Name) support....
March 2018: Secure your Multiple domains and its sub-domains with cheapest PositiveSSL Multi Domain Wildcard Certificate, Price starts Starting from $120/yr....
March 2018: Secure your website with Domain Validated RapidSSL Certificate at lowest price and it gives perfect HTTPS solution for small business, It's price Starting from $7/yr (on 3 years Validity) from CheapSSLShop.com...
March 2018: Comodo EV SSL certificate secures your single domain. EV SSL cert shows the green address bar along with Company Name in address bar of browser, that means User can put trust on your website because EV SSL authenticates your business and it takes Upto 7 days to issue....
Unreliable Coupons
Currently 31 unreliable coupons
Get free CheapSSLShop coupons and Promo Codes to save up to 60% Off and 78% OFF Comodo EV SSL
55% Off SSl: Save Upto 55% Off SSl Certificate at cheapsslshop.com - SYMANTEC SSL CERTIFICATES - Save 5% (Coupon 1) - COMODO EV SSL - Save 32% (Coupon 2) - COMODO POSITIVE SSL - Save 34% (Coupon 3) - POSITIVE SSL WILDCARD - Save 30% (Coupon 4) - COMODO ESSENTIAL SSL - Save 55% (Coupon 5) - COMODO ESSENTIAL SSL WILDCARD - Save 50% (Coupon 6) - EXCHANGE SERVER SSL – UCC - Save 25% (Coupon 7) - POSITIV......
10% Off SSl Certificate: 10% Off SSl Certificate of the GLOBALSIGN (Coupon 1), GEOTRUST (Coupon 2) and THAWTE (Coupon 3) at cheapsslshop.com...
69% Off Comodo Essential SSL Wildcard: Secure all your Sub-Domains with Comodo Essential SSL certificate. Buy essential SSL cert with 3 years validity at just only $65 per year...
25% Off GlobalSign Wildcard: GlobalSign Wildcard SSL certificate issued by following domain validation process and secures single domain and all first level sub domains at just $387.25/yr (for 3 years)...
74% Off Positive SSL Wildcard: Comodo Positive SSL Wildcard certificate to secure your unlimited sub-domains over a base domain at cheapest price, $51.33/yr from CheapSSLShop.com...
88% Off Comodo Essential SSL: Protect your website with Comodo Essential SSL certificate at $7.50/yr. to establishes encrypted connection to secure online information of your customers during transition between your web server and client's web browser. This Coupon code offer applicable on 3 years validity purchase....
25% Off GlobalSign ExtendedSSL: GlobalSign ExtendedSSL (EV) Certificate includes SAN support, Malware Scan feature and ensure your visitors that they are dealing with website that has enabling green address bar, show your company name in address bar and installing trusted site seal provided by CA GlobalSign. Apply coupon code and buy it for 2 years at $425/yr....
83% Off Comodo PositiveSSL Multi Domain: Apply coupon code to 83% discount on Comodo PositiveSSL Multi Domain certificate with 3 SAN included at $27/yr. & Secure your multiple websites with 256-bit SSL encryption, Which helps to prevent Man in Middle Attack....